October 25th 1997
Tavastia Club
Forever Free
The Kiss Of Judas
Distant Skies
Season Of Change
Twilight Symphony
Speed Of Light
Guitar/Keyboard Solo
Holy Light
Drum solo
Visions
Will The Sun Rise?

Forever
Paradise
Black Diamond

Legions
Before the show itself I had the chance of meeting the band and getting autographs. All the others were already at Tavastia when Timo Kotipelto came in, a bit later than usual. He was ill, and had been home taking care of his voice, but during the show he didn't even mention it, and you couldn't hear it either.
Opening band was a Dutch band Elegy, who had their first visit in Finland opening for Stratovarius at Tampere and Helsinki. I had only heard a couple of their songs earlier, and wasn't at all familiar with them. But they sounded rather good, solid, diverse prog metal. Especially the song Shadow Dancer (I think) stood up. Perhaps there's some truth to the many praises I've heard about them around the net, though I've heard some opposite opinions as well - you never get the full picture just from the live show...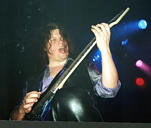 After a little pause, at about 0.15, the background music faded out, lights dimmed and intro music began. The crowd went wild, and soon Jens, Jörg, Jari ja Timo Tolkki came on stage. When Tolkki started with the opening riff for Forever Free, Kotipelto joined the rest. I couldn't help noticing how Jens' keyboard stand was a bit tilted, so that the audience could see his fingers flying on the keys. I had actually never before really seen his keyboard wizardry that well. He really doesn't even try to play his solos live as they're on the album, and rather improvises.
During The Kiss Of Judas I got convinced that Timo's illness didn't really affect his performance at all. Then Timo gave a little speech about the show being the last one on their long European tour, and that they would play a little longer set because of this. Stratovarius are now heading for South America. On this tour they had incredible 10 gigs in Finland, and that's a lot. This was already their second show at Tavastia this year, and Timo promised that they won't be back - this year ;-)
Next, Distant Skies about something that Stratovarius wouldn't want to experience on their way to the South American tour. A bit more progressive piece, majestic Season Of Change was definitely one of the highlights of the show, and it seemed to work better on stage than it did in May. Twilight Symphony and Speed of Light offered both speed and atmosphere. I never before realized how fast the background keyboard parts that Jens plays on Twilight actually are...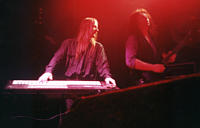 Next Jens and Timo Tolkki had their share of fast soloing with some humour. Too bad the solos didn't differ that much from the previous solos I heard. After the solos the band went straight to Holy Light. Once again, they only played half of it, and then left the stage for Jörg, who this time had a microphone too. Between his fast solo clips he expressed some of his thoughts, and demonstrated his Finnish skills: "Lapinkulta" (Finnish beer :-)
The rest of the band came back on stage, and all the band members were introduced. Jari will probably get 6th string to his bass, and is still allowed to stay in the band ;-) Jens got a little chance to prove he knows some Finnish too. "Lisää viinaa". "Kristuksen kyrpä on kylmä!". Yes, Jens' home page used to have a list of Finnish swearing. And the band also revealed their biggest dream: to go to sauna with Hanson!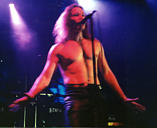 After the little introduction the band kicked off the epic 10-minute title track of the album, Visions, which I've noticed to work surprisingly well as a live song too. After Will The Sun Rise? the band went away for a while and someone from the crew brought another guitar on stage. Everyone probably guessed what it would mean. As usual, the audience sang the whole Forever, and hummed the solo. This time perhaps even louder than I remember hearing before. And we probably gave a good competition to the fans in Tampere, who had done the same the day before ;-)
Then Timo Kotipelto promised some faster songs, and the band played the most straightforward song of their latest album, Paradise. Then it was time for yet more speed and some nice harpsichord sounds in Black Diamond. In the end it seemed like Jens wasn't about to stop the playing at all, and Timos seemed a bit surprised. And the last song of the set, Legions, was once again dedicated to those who have supported Stratovarius. "Our armies in Helsinki, here we come!"
Overall I really enjoyed the show, yet again, but I would've liked to see a bit longer set, as Timo promised in the beginning. The set was also pretty similar to the two earlier shows I had seen this year. I would really like to see some of the older stuff, especially one of my all time favourites Dreamspace, and perhaps some of the less played newer songs as well, like We Hold The Key, Eternity, Tomorrow or Before The Winter.
But now I'm only waiting for the live album, probably called In the Land of Gods, to be released around March :-)
---